Joined

Jun 11, 2019
Messages

1,494
Points

113
Usually I assemble PC's in a mid tower, or a full height tower. Most of the mobo's I purchase are full atx, or eatx.
I need room usually for water cooling or lots of storage. The last few years though, I have been condensing system sizes.
With NVME's and feature rich mini itx solutions it's become a bit easier to have mobile performance.
I hate laptop shopping, the price vs performance value is difficult at times, but creating a decent PC that you can travel with can be had for far cheaper. You all know this.
I knew I was going to be out of town, and in the central states, the best entertainment you may find is news on pork bellies, covid, or Trump.
I'm sick to death of most of that..... I do appreciate bacon tho, but I digress.
So I ran down to the local Microcenter in KC and picked up a few items. The center of this little entertainment box is the
Gigabyte B450 I Aorus Pro WiFi.
The biggest reason for this choice was the cheapness of a B450 board and, if using an APU, you can set the graphics memory up pretty high, which inspired me to go with 32 gig of ram. Plenty to go around for all.
Which brings me to the first time I have ever bought a RAM brand I wasn't familiar with. For $120 bucks, I came away with 2x16 sticks of PC3200 from Neo Forza.
It worked right out of the gate too. Which was good, because this system was assembled in a very short amount of time before I had to be on the road.
The brains of this cheapy gamer for the road is a 2400G. I really wanted a 3400G, but most of anything that I want is usually found nesting with other mythological creatures.
I had seen the reviews on these APU's but was a bit skeptical still. Most of my experience with onboard video has only furthered my drinking habits.
But, the 2400G was what I could find, for what I thought was reasonable, and it needed a home.
The star of this build tho is the
In Win Chopin
.
I expected scraped knuckles, cussing, broken bits on the mobo, and a general dismay of diy stuff in general. Didn't have any of that.
It's small, but still big enough to set a M-itx board, comes with a power supply that suits, although I am glad I'm not using a video card. It's a small power supply.
The WD Black NVME went in without losing the screw, it has a nice heatsink for it on the mobo. The ram was a no brainer. I used the stock heatsink that came with the 2400G. The only modification was removal of the fan shroud so everything would clear.
Tucked the cables around the edges out of the way, screwed, tightened, and plugged in all that was needed, fired it up, installed Pop Os and then promptly packed it up for the trip.
Now, me and Murphy's law have a thing, but, this sumbich works without issues.
So far I have played some movies off my Plex box at home, played some Path of Exile, terrorized some deals on Slickdeals and am currently posting from it now.
I have yet to really have any issues with Gigabyte boards, although my latest stuff has been Asus, but I am happy with this itx mobo. Intergrated Intel wifi and lan, nice Bios features.
I am pleased so far with the Neo Forza gamble. Not sure I would run it in my TR box, but perhaps.
And this is my first In Win case. It's well constructed, seems to breathe well, for a 65 watt processor at least. Overall I am pleased with it.
I dunno, just bored and thought I'd share my hokey little build. I will get better pics this weekend when I return home. I don't have a decent screw driver to take the side panel off.
Pic of it in whoretel connected to the TV. Bravo to Pop OS for picking that display up so accurately.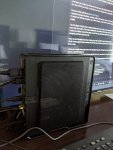 Last edited: