Joined

Jul 17, 2019
Messages

113
Points

28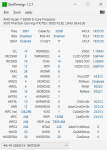 So we have a thing like this, looks great and all - dual-rank 8 gbit Sammy B running at a
chilly
1.63v
Bit of a pain to set up, requires a fan, questionable long-term (12+ hour high-intensity workload) stability.
Thus I raise a question to the folks that peruse the place:
How much performance do you expect to see me drop, if I was to lower these values to something much more reasonable?
2x16 GB 3200 CL14-14-14 kits weren't particularly expensive, back when I last looked, and they're more than capable of doing "easy" 3800 16-16-16 at 1.46v with less pushed subtimings.
what's it gonna be??
I'll go run some Tests(tm) after some votes pour in, even if I already have a vague idea of what it's going to be.