Joined

May 28, 2019
Messages

7,060
Points

113
Looks great!
Any chance we can get a selector or toggle or something for font size in the articles?
There's a bunch of F'n Old Farts around these forums, and I am one of them. I use Zoom on Chrome, it makes the text readable but the pictures get gigantic.
And while I'm being super nit-picky (I really do like it, honest!) - there's a ton of empty space around the sides. This is a screen grab from my monitor -- no zoom applied, no ad blocking. There is a footer ad that floats, but it's pretty thin, and another add along the bottom of the right-hand graphics for the news feed.
And all that lovely empty space on the left and right.
Now, when I zoom in so the font is something legible, that empty space is mostly gone. The graphics (like the NVidia card in the screen shot below) take up almost the entire screen by themselves then, but I can read the article.
Maybe my gripe isn't so much that the font is too small, but that it isn't scaling to 4k well?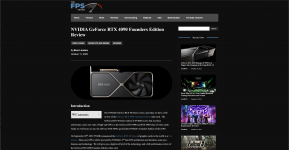 Last edited: