Joined

Jun 19, 2019
Messages

3,615
Points

113
Well, if the social icons aren't appearing in the top bar, then it must mean your window size isn't the full width of the page, as that does look thicker than I thought I had it set.

So... The question would be, what window width are you giving it? And does the bar get thinner if you stretch your browser out to say, 1200px?
My bad. All of my browsing is at 1200x1600, but I block social icons by default. Forgot to turn that off before taking the screenshot.
Here it is with all plugins disabled: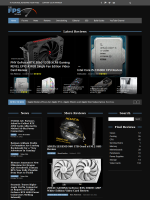 I never intentionally blocked them on this site, but it seems to have carried over from others where I blocked them due to obnoxious site design where the social icons covered the actual content and I couldn't read the article.