Joined

May 28, 2019
Messages

7,515
Points

113
Didn't even know this was a thing. Kind of slipped under my radar but not too surprisingly since I currently don't own a console. Also not surprising since the 'remasters' failed so miserably when they were release a couple years ago for PC and support was quickly abandoned for their DLC. Well anyway I was in Wal-Mart yesterday and noticed this ad as I was walking in and it looks like it's going from being just on the Swtich to possibly other consoles as well.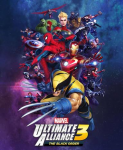 Might have to get an emulator and get this
I did the same for the 2nd game. Also did it for Thor, along with a controller, just so me and my wife could have fun throwing the hammer at bad guys.